RESEARCH & DEVELOPMENT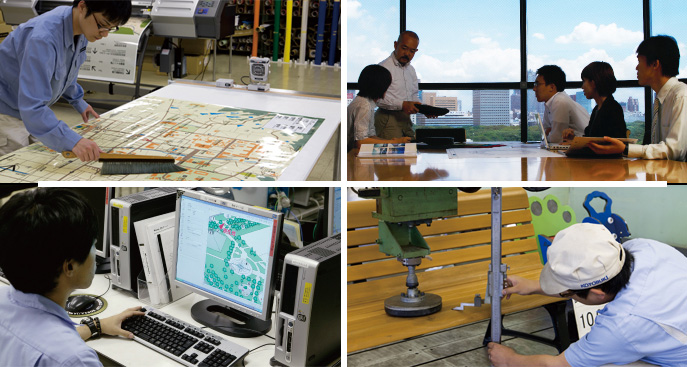 Manufacturing connected to environmental spaces involves specialists from all kinds of fields, including architecture, garden planning, engineering, machinery, electronics, chemicals, industrial design, and graphic design. The culmination of all these varied ideas and technologies is the KOTOBUKI brand. We continue to evolve in order to create a society that is always fresh, with our prowess in planning, designing, development, and manufacturing and town planning that is kind to society and the environment, all backed up by steadfast product quality. It is, in other words, through the exercising of our research and planning abilities that the KOTOBUKI ethos of manufacturing is manifested.
Tochigi Factory
1601-12 Tadokoro, Shioya-gun, Shioya-machi,Tochigi JAPAN 329-2331
The Tochigi Factory that lies at the heart of our Townscape products is responsible for all the manufacture of our street furniture, playground equipment and signage. Manufacturing is conducted under a strict quality control regime. Since the Townscape products are exposed to severe external conditions, we pay great attention to the materials used in them and the finish of the surfaces, not only providing our customers with the very best quality, but also making enthusiastic efforts in pleasant landscape creation research through the use of various testing devices.
Certification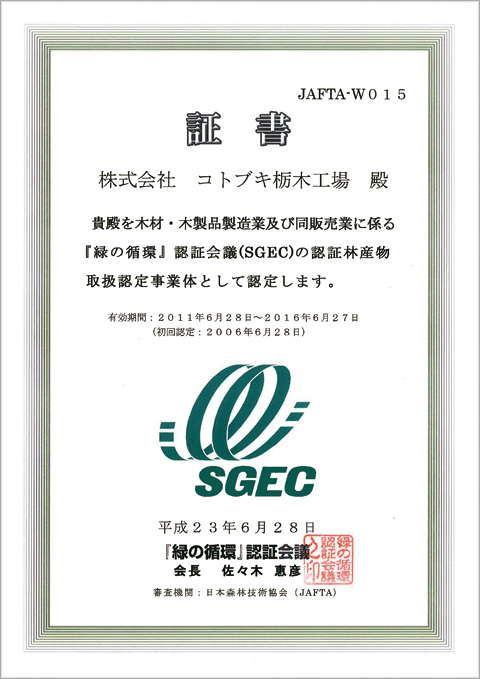 SGEC (Sustainable Green Ecosystem Council) approved facility.
In response, Sustainable Green Ecosystem Council (SGEC) is established to be an appropriate certification scheme in the context of Japanese forestry. SGEC is to be popularized in order to promote SFM, encourage cyclical use of forest resources, raise forest management level, contribute to global warming prevention efforts, and support people's life in both country and urban settings. KOTOBUKI Tochigi factory has been certificated SGEC approved facility and we encourage cyclical use of forest resources. ISO Certification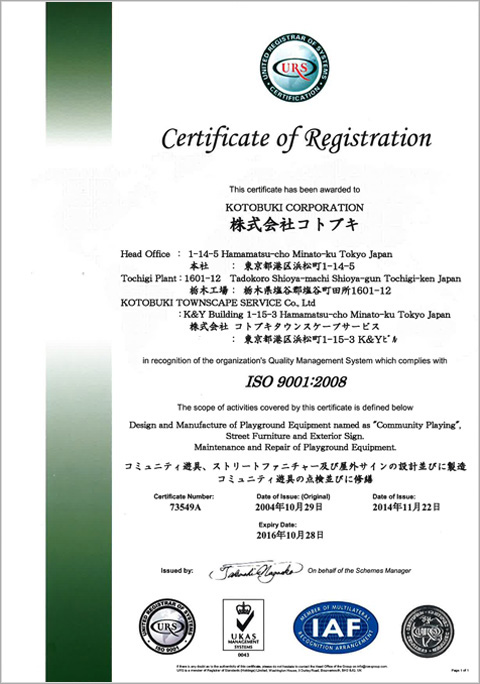 ISO Certification
ISO (the International Organization for Standardization) is a worldwide federation of national standards bodies (ISO member bodies). Its purpose is to promote common standards for businesses worldwide. KOTOBUKI obtain ISO 9001:2008 has a process-oriented structure, is customer focused and emphasizes continuous improvement in quality.